Everything BATMAN
Lets start off on how I'm dealing with my Batman hangover. I saw it yesterday afternoon at a VIP private showing, and when I left, I didn't know what to think. Were my expectations not met? Was the hype to high? Did I think it was good? I will do my best not to give anything away since the movie only came out 12 hours ago.
I'm torn, obviously it was an amazing movie butttttttttttt I am little disappointed in it.  I mean The Dark Knight was one of my favorite movies and I do not think this was as good.  I'll give some notes on what I did and did not enjoy.
I 100% enjoyed the fact that you did not have to see the other movies in order to understand Rises. There is tons of back story that helps if you DID see the movies but its not needed due to the amount of flashbacks and clips to help you understand the moments that just occurred and even at times gives characters that ah ha moment they need to make everything come together.
Visually, yes I think it was better then the previous 2 installments. They actually used New York this time in the film which is big since so much chaos happens (may be one of the first times ive seen so much damange done to NY in a film post 9/11)  but of course stopped off in Gotham brother cities, Chicago and Pittsburgh…but is it a crime to say that BATMAN the MOVIE came off to much like a COMIC BOOK? I understand that its the origin of the character and it could have pleased the fanboys at comic con but it just didn't do it for me. There were some fight scenes between Bane and Batman that if a POW! or BAM! showed up I wouldn't have been surprised.  I'll let you guys be the judge but for me the fight scenes came off as punch grunt punch grunt and the close ups of the fights made it looks more as a frame by frame fight, think looking at /reading a comic book. There is also the scene where Bale and Hathaway dance, the slow dance spinning was making me dizzy the way it was shot. 
One thing I did not like was Batman's new toy The Bat. It look like it came strait out of Avatar and it did not go over well with me. I just wish they used a more BATMAN type of vehicle. I understand the bat mobile isn't exactly the iconic one but i think the BAT , plane? well call it, should have been less over the top.
The story was great. There were twists and turns,  some veryyyy predictable and some not so but the action of the movie made you forget the predictability and gave you the o yea now I remember I saw that coming when the moments actually come.
The battle between good and evil was perfect once again.
Here is what I thought of some of the main characters of the film.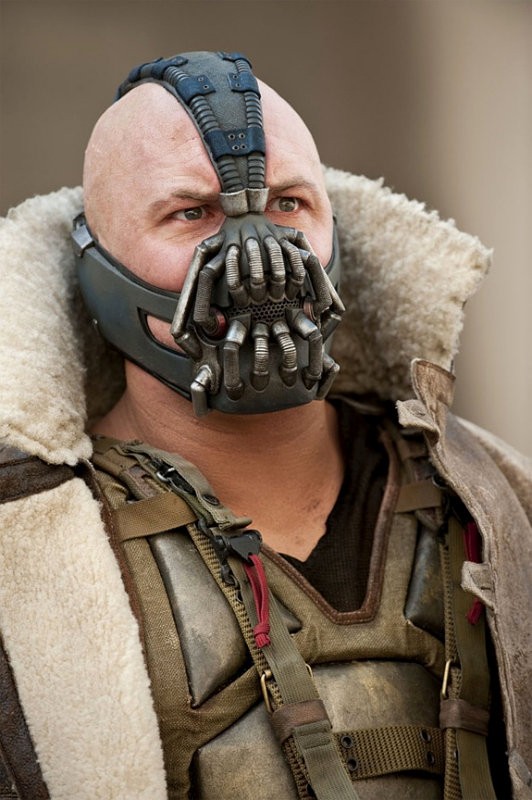 Bane.
Oh Bane the ginormous super villain/terrorist with the Mortal Kombat  face. Tom Hardy did a great job playing Bane, think about it, all that acting, using mostly his eyes (due to his face being covered). The evil that he showed was unbelievable and even in my opinion came close to the disturbing role of the Joker.The only problem with Bane is his voice, which is for the first 20 min unrecognizable words and grunts. As the movie went on the words starting forming and I could actually understand him which made it better and better to watch him run around tormenting the citizens of Gotham City.  No SPOILER here because it was on most of the trailers so if you want you can skip to the next paragraph, the scene where the football field blows up is perfect. The little boy singing the National Anthem,  Bane slowly walking up from the tunnel, it all gave me the chills prob one of the top scenes from the movie and we get a Hines Ward cameo.
FYI  The plane scene is amazing, maybe one of the best in the movie also. 
Cat Woman. 
Going into the movie I was pissed about Cat Woman from the moment I heard about her so again, I had these thoughts before even entering the movie. I was surprised by Anne Hathaway in her role as Cat Woman.  From the moment she shows up I thought she did an amazing job, she was smart, sexy and mysterious. I just wish she stayed that way. As the movie went on her and Bruce Wayne/Batman form a relationship and the moment , I guess I can say,  she started to become the Cat Woman we know and that I expected before hand. Her role in the second half of the movie is mediocre and she loses that touch we saw in the beginning.
Alfred.
Or shall I call him Confucius. Batman's conscious of the movie had a lot of emotional moments. He is one wise man and I think someone should start a Twitter account right now and just pump out inspirational and heart felt thoughts on life. He actually almost brought a tear to my eye talking about how much he cared for the Wayne family.
John Blake.
Gorden Levit plays  John Blake a NYC police officer and HUGE Batman fanatic who actually knows who Batman is. I loved this character. Blake looks at Wayne the way any one of us would if we knew a superhero, just staring at him, out of costume looking at him with amazement thinking this is Batman wow.  His  New Yawk accent wasn't annoying like when most people try to do it and he was very convincing in every scene.  This was another casting I was turned off just because I still see him as the kid from Third Rock From The Sun but he seriously came into his own as a actor in Inception and now Batman The Dark Night Rises, both Nolan films.  He truly was a character to root for.
and ofcourse….
Bruce Wayne/ Batman.
Whats there to say, Bale is to Batman what Connery was to Bond. The best. (Sorry Adam West, just hope Bale doesn't want to do voice over work for Family Guy in the future)  His voice wasn't as Batman deep as previous films which is a huge plus, that honor went to Bane as previously stated.  Wayne is broken down in this film physically and emotionally and to take a line from his  father in the original "Why do we fall Bruce? So we can learn to pick ourselves up. " is what Batman is in this movie. He is not only picking himself back up but putting the weight of a city on his shoulders.
Thinking about the movie and trying to summarize is hard with out giving a lot away. Re-reading what I just wrote, you can really see that i'm nitpicking almost trying to find something wrong with the movie; but like I said in the beginning of the article, I left the movie with an unease of not knowing if I truly enjoyed it. With a movie of this magnitude one cant help but caught up in all that surrounds it. I wish I didn't build it up in my head to what I expected it to be in that aspect I am a little let down. Overall though, by the surprise of any of you who get to this point I think I convinced myself that I really did enjoy it more than I think and might even go see it again. By that time I will have no problem dishing the scene by scene and you can understand completely how I feel and where i'm coming from.
Note: I HATE PEOPLE WHO APPLAUD AT THE END OF MOVIES, THE ACTORS ARE NOT BEHIND THE SCREEN.
Related articles