Come Get Some – Nick Mangold's Sister Qualifies For 2012 Summer Olympics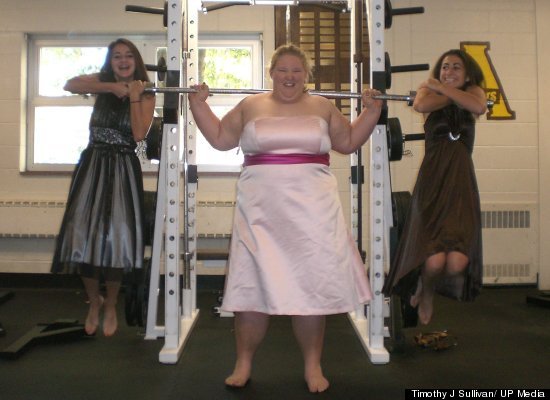 Holley Mangold puts a twist on the medal ceremonies after lifting the Silver and Bronze medalists
I am going to take the highest road possible on this one…for fear of my life.
Congratulations goes out to the Mr. and Mrs. Mangold, who added a second professional athlete to the litter yesterday.  Holley Mangold, little sister of All-Pro Jets center Nick Mangold, won a place on the US Olympic Women's Weightlifting team yesterday.  Between the two qualifying competitions, Holley lifted 516 lbs, or the weight of the entire US Women's Gymnastics team.
Other more reputable press releases have chosen to highlight Holley's height and weight as a means to drive users to their site. Here at BtB, we respect women, so we don't list anyone's weight over the Mendoza line.
In related news, Nick and Holley's father, Vern, is in negotiation talks with several horse breeders, all of whom believe this is the only man whose semen is strong enough to crossbreed the world's first Centaur.
+
=
Glorious!